Thursday, April 28, 2022 By press release

CMA press release
After a two-year hiatus due to the pandemic, the Galliard String Quartet (Quartet) returns to Molokai to perform with the Molokai Instrumental Music Education Program (MIME) on Monday, May 9 at 6 p.m. at St. Damien Catholic Church.
The MIME program started as a 21st century class in 2011, taught after school by Bob Underwood and open to anyone who wanted to connect with music. The Molokai Strings and Community Band performed at community events and evolved into MIME. During the pandemic, individual musicians have honed in on the more polished septet that has wowed Molokai audiences with songs from the Beatles to showtunes to pop. Their most recent performances have featured collaborations with local songbirds Keaka Kaiama and Kananikala Bishaw-Juario as well as local musician John Aki. The MIME will open the program at 6 p.m.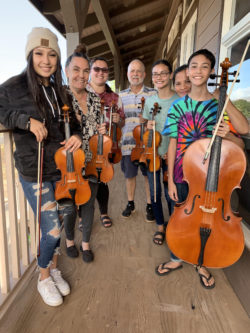 The Quartet, which performs at 7 p.m., is Hawaii's leading professional string quartet and has performed on all the islands. Their first performance on Molokai with MIME dates back to 2013. Passionate about the music of Beethoven, Brahms, Shostakovich and the songs of our queen Lili'uokalani, Galliard was founded in 1982 and is known throughout the islands for its high standards and its commitment to high quality performances and educational outreach concerts. Highlights and recent collaborations include acclaimed pianist Wu Han, Joyce Yang and Jon Nakamatsu, Hawaiian artist Raiatea Helm, conductor and silent film historian Rick Benjamin, composer Jon Magnussen, Onium Ballet, Hawaii Contemporary Triennial 2022, Iolani Palace, Hawaii Vocal Arts Ensemble, and the PA'I Foundation. All four members of the current Quartet – Wu Hung, Dr. Helen Liu, Anna Womack, and Dr. Sung Chan Chang – are members of the Hawaii Symphony Orchestra and are seasoned teachers and music teachers in the community.
Come and enjoy Beethoven, Mozart, Hawaiian and Disney favorites, maybe a few Beatles and pop standards, too, at the free concert co-sponsored by the Molokai Arts Center, a nonprofit arts education program.