Wabash College presents the 54th Festival of Christmas Music and Readings at 8 p.m. on Wednesday, December 7 in the Pioneer Chapel. A seasonal music prelude begins at 7:30 p.m.
Inaugurated in Wabash in 1968, the Christmas Festival alternates musical performances, parish hymns and Bible readings. It is inspired by the King's College Festival of Lessons and Carols at the University of Cambridge, England.
The Christmas Festival will feature songs from the Christmas season, including selections from the Wamidan World Music Performance Ensemble, various instrumental soloists and the Glee Club. The public will also have the opportunity to unite to sing several Christmas carols during the program. The evening's readers include Wabash students, faculty and staff.
This Wabash holiday event is co-sponsored by the Departments of Music and Religion and is free and open to the public. There will be a reception after the Christmas Festival at the Sparks Centre. All members of the Crawfordsville community are invited to attend this festive event.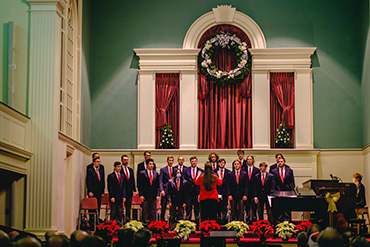 A live broadcast of the Christmas Festival will be available on the internet via the Wabash College Video Network at https://www.wabash.edu/live. The Wabash College Video Network TV app is available through Apple TV, Android TV, Amazon Fire TV, and Roku. The mobile app is available through Apple, Android, and the Amazon Fire tablet.